The ability to genetically modify rodents has increased the need to assess reproducibly and quantifiably, the phenotype of these animals with respect to body composition and physical function. In addition to utilizing the small animal resource services, the Preclinical Discovery Core (PDC) provides the infrastructural and consultative support for non-invasive measurements of alterations in body composition, muscle performance, physical function and metabolic performance to facilitate longitudinal studies of FPTs during aging and metabolic stress. The PDC is also continuing its mission to spearhead innovation- development of novel 7Tesla MRI techniques to provide mechanistic insights into FPT interventions.
Request Consultation using the following: PDC Consultation Request
Provide a focal point for interdisciplinary collaboration by Boston OAIC investigators in the application of existing and new tools to assess muscle impairments, metabolic alterations and physical function.
Provide standardized, state-of-the-art methods and instruments to assess body composition (lean body mass, whole body and regional fat mass, skeletal muscle mass, functional microscopy of the muscle) in animal models of aging and to quantitate response to FPTs.
Provide standardized equipment and operating protocols for the assessment of muscle performance and physical function in preclinical models of aging.
Develop novel non-invasive imaging modalities for longitudinal proof-of-concept and mechanistic studies of muscle loss and regeneration in the preclinical studies of FPT.
Implement rigorous quality control by personnel training and certification in standardized procedures for assessment of muscle performance and physical function, and by maintaining equipment calibration.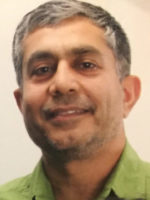 Ravi Jasuja, PhD
Brigham and Women's Hospital
Harvard Medical School
Director, Translational Research and Discovery, Men's Health: Muscle and Metabolism, BWH
Lecturer on Medicine, Harvard Medical School
Small Animal Resource Core Leader Ravi Jasuja received his Bachelor's degree in Technology from the Indian institute of Technology, Delhi , PhD from the University of Hawaii, Manoa with Dr. Randy Larsen and conducted his postdoctoral research with Dr. Shahid Khan (at Albert Einstein College  of Medicine)  and Dr. Frank Ferrone (at Drexel University). Dr. Jasuja is an Assistant Professor of Medicine in the Endocrinology section and the director of Metabolic Phenotyping Core. His research interests include: 1. Biophysical characterization of ligand-specific conformational dynamics in Androgen Receptor 2. Mechanisms of tissue-specific action of androgens on muscle, bone, prostate adipose tissue remodeling by circulating androgens in animal models and development  of Selective  Androgen Receptor Modulators.